Japan Bike Tours Specialists since 2006
Our goal is to deliver the best experience in Japan to guests by bicycling.
Established in 2006, we have operated fully-supported, English-guided, inn-to-inn bicycle tours in various parts of Japan welcoming guests from abroad. Bicycle tours in Japan are all that we do because we believe they are the best ways to explore the country. Visit Japan and travel with us for an unforgettable experience!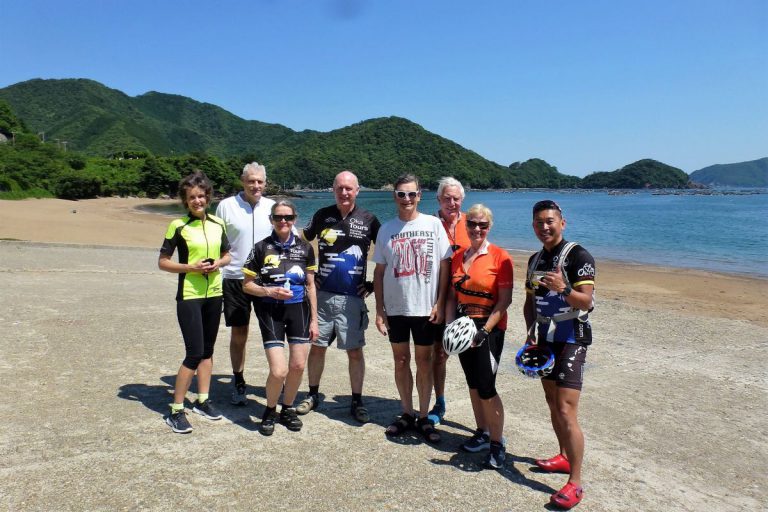 We want to make sure that we provide personalized services to each one of our guests and keep a friendly atmosphere during the trip. We keep the group size small unless it is a private tour – usually around 6 to 12 guests.
All tours are conducted in English by our tour leader(s). Our leaders are bilingual Japanese nationals who have qualified as National Government Licensed Guide Interpreters under the Interpreter-Guide Law in Japan. All of our leaders have completed first aid training.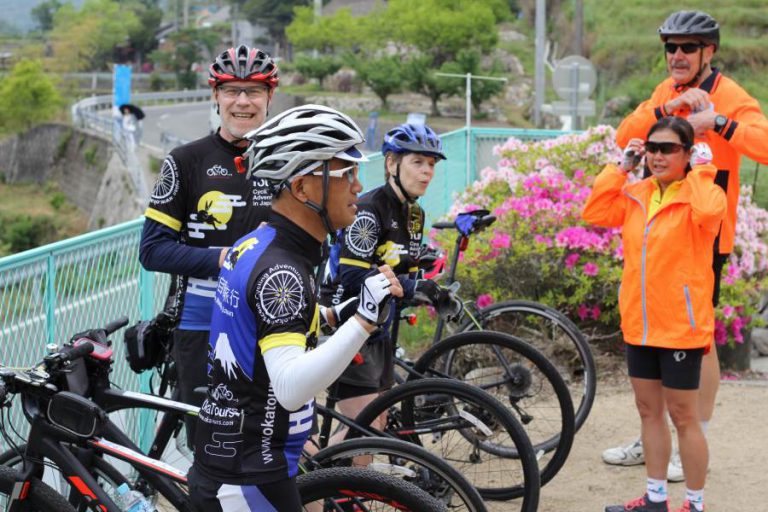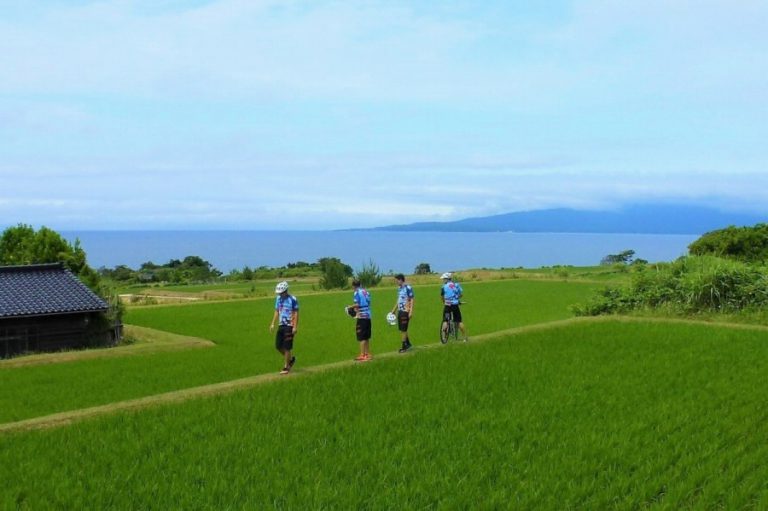 We Take You to the Countryside
All of our tours are designed for guests who want to go deep into Japan's countryside. Rides are carefully planned following safe routes with little traffic and most beautiful sceneries.
Carefully Selected Accommodations and Meals
Our accommodations are either traditional Japanese-style inns, cozy family-run pensions, or western-style hotels. They are chosen for comfort and quality of services, as well as authenticity and personal touch. We consider food is an essential part of your trip in Japan and try to include opportunities for you to try a variety of delicious local foods.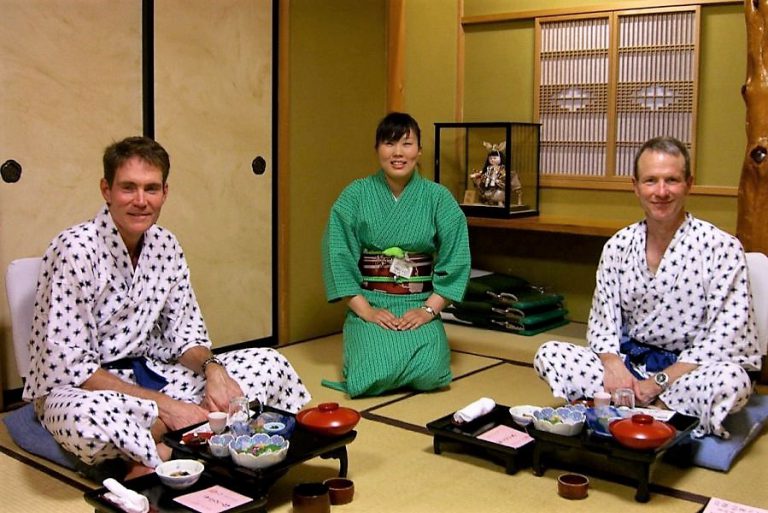 Click or touch destinations on the map to find out about our tours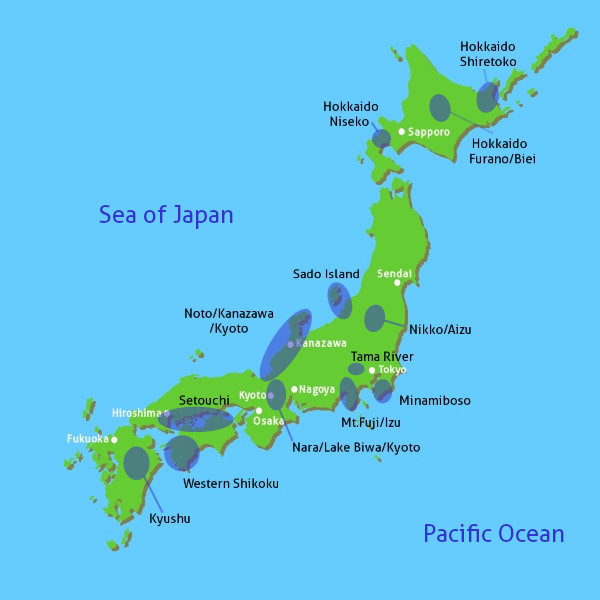 Outstanding holiday experience. Akira and his team managed a disparate group with varied cycling abilities with patience and charm and created a lovely experience for all. Very special rural routes were selected. The bicycles were high quality and accomodation and meals just excellent. We have already recommended Oka Tours to friends and family and look forward to undertaking another trip with them in the future!
Christine, Australia
2023 Noto
Can I thank you for providing us with such an outstanding experience for the two weeks we were with you.  We really appreciated the fact that you customised your tours to meet our needs and time requirements.  Both trips we had with you were spot on – the scenery, the food and the accommodation were just brilliant.  The bikes were fantastic and the back up from "Uncle" was superb.  All in all, an awesome experience and definitely the highlight of our trip to your beautiful country.
Ross, New Zealand
2019 Custom Tour
We received the photos a couple of days ago and have been savouring them, viewing them a bit a time—to stretch out the memories.  Thank you so much.  So many parts of our cycling and sightseeing have been captured.  Having taken two trips with Oka, back to back, we have double the memories to enjoy.  How fortunate we are!
We'll be checking your web page for upcoming cycle ventures, in particular the new one planned for Kyushu, and others, too.
Kathleen and Wes, Canada
2019 Noto / 2019 Setouchi
Thank you so much for an exceptional cycling tour. It's 3 weeks since we returned home to Canada. Every day we continue to talk about, share and reflect on our time with you and your company. 
We loved everything about Japan – it was truly the trip of a lifetime for us. That said, our cycling portion with Oka and Tokyo bike tours were the two biggest highlights of our trip – many many fond memories, new learnings and active experiences. …….
Marilyn and Michel, Canada
2019 Setouchi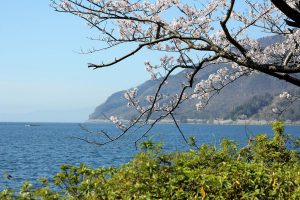 The Japanese government has finally opened its border for international travelers. We will resume tour…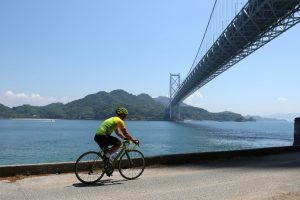 We are opening a new departure date for the Setouchi tour on May 20-28, 2023.…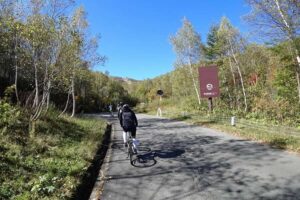 We are excited about the launch of a new tour in Nagano. Surrounded by the…